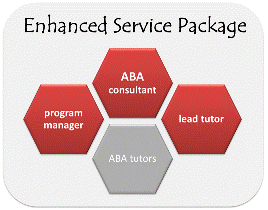 Overview
Our Enhanced 12 week in-home services package includes everything in our Basic package plus 12 teaching sessions by one of our lead tutors, and an hour per week of program management.
Best fit
This package is a good fit for a family who will be bringing on novice tutors who will benefit from pairing with a more experienced practitioner more frequently than once every 3 weeks. Our lead tutor will provide a high quality teaching session to your child once a week. New tutors can pair with our lead tutor as often as needed to become more confident with teaching, data collection and behavior management procedures. We also recommend our Enhanced 12 week package for families who do not have a caregiver at home to manage the program binder and ensure the teaching materials are in place. Program and material management is included in this package.
Your Role
With our Enhanced Service Package it is the responsibility of the parents to find and hire additional ABA tutors. We have some resources on our website that can help you with this process. Parents are also responsible for providing the teaching materials.
Limitations
It is important to note that our Enhanced Service Package is not an intensive intervention service. Learners receiving 10 or more hours of intervention per week or struggling with challenging behavior may need add-on services to manage their intervention programs effectively. Additional onsite visits from the consultant and lead tutor can be scheduled at their regular hourly rates.
Please contact us at 443-201-2217 for more information